Megahertz's unique practical approach to provide information security solutions that enables organizations to have risk-free & secure network. Being an information security specialist, Megahertz offers cost-effective security solutions to its global clientele to reduce their data, application and network security risks.
Data Protection
As data is lifeline of all businesses, we take responsibility to provide end-to-end data protection to our clients. We offer data encryption solutions to corporate and government organizations to protect their sensitive data by encoding it into unreadable form. This technique helps in putting restrictions on unauthorized data users, and allows only authentic individuals to access data at physical level. MEGAHERTZ DATA PROTECTION suite provides high levels of data security to safeguard confidential information against all unexpected threats. Our expert data protection team provides data security at database level, operating system level and storage level.
Application Security
Megahertz provides application security to push away threats affecting web-based and mobile applications. We make sure that all your network applications run seamlessly without compromising on security parameters. We take complete control to detect & block all malicious web requests, prevent data leakage and give access only to authorized users. We offer IBM Tivoili directory server to provide user authentication, authorization and access for LDAP enabled applications. We monitor access controls for application users & give end-to-end application security to the clients.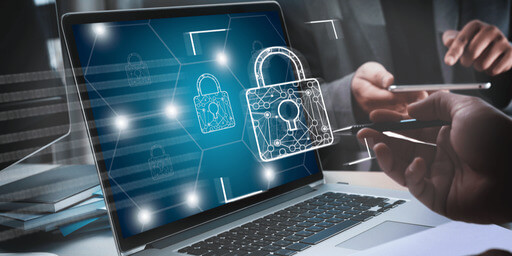 Identification & Authorization
We believe identification and authorization are better ways to recognize the real users & allow them to perform only authorized tasks for completing any confidential business process. Maintaining transparency in authentication process, via secure login, is really necessary to allow users to access only those resources that they are related with. We help clients in developing single sign-on application to allow users to access multiple applications (like any company portal) and low risk information. The single user id and password is used to access multiple applications, thereby reducing cost, strengthening security and saving time.
Online Transaction Security
To keep away online criminals from confidential online transaction processing, Megahertz implements best authentication practices to provide multi layers of security controls. With increase in password phishing scenarios, we encourage our clients to use smart and advanced technologies, like one-time password tokens, device identification, multi-factor authentication, biometric authentication, etc.

We recommend implementing multifactor authentication (two-factor & three-factor) to protect customer data and digital assets. Two-factor authentication comprises of 'something the user knows & something the user owns', it asks for two separate factors to complete logon sequence resulting in high security level. Adding up of third factor 'something the user is' completes three-factor authentication giving strongest authentication which is least susceptible to errors.
contact us
Request Free
Consultancy
Phone
+91-011-46644000
Address : Nehru Place, New Delhi, Delhi, India - 110019
Email : info@megahertzinfotech.com
get direction